Where to buy real estate in in 2019: Vancouver
Our No. 1 Vancouver community offers excellent value in a city where real estate prices have been grossly exaggerated.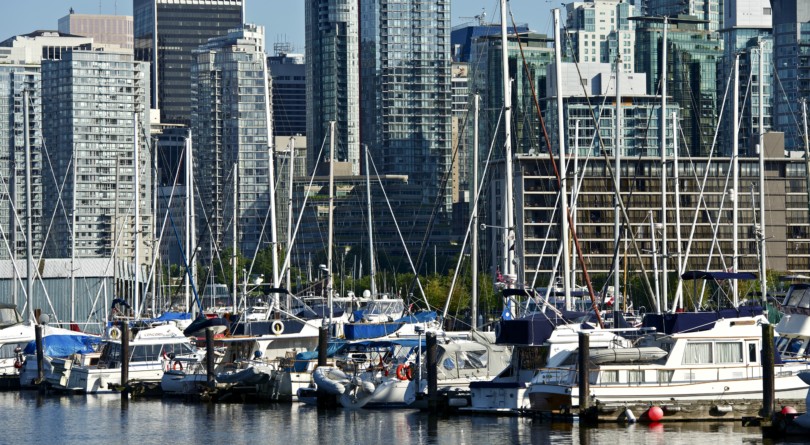 City photo created by welcomia - www.freepik.com
Buying a single-family home in the City of Vancouver has felt like a bit of a pipe dream for many. But if you can get over the steep price—the average detached house in the City of Vancouver goes for north of $1.7 million—then 2019 might be the year to buy a single-family home in Vancouver.
Prices are dropping—in some areas, precipitously. Data from the Real Estate Board of Vancouver (which covers Whistler, Sunshine Coast, Squamish, West Vancouver, North Vancouver, Vancouver, Burnaby, New Westminster, Richmond, Port Moody, Port Coquitlam, Coquitlam, Pitt Meadows, Maple Ridge and South Delta) shows that sales dropped to a 20-year low in April 2019. This massive slowdown in sales activity, combined with the increasing inventory in the Greater Vancouver Area (GVA), means that prices for a detached home are now at the lowest they've been in three years (that is, since 2016, when the market is said to have peaked).
In the City of Vancouver, prices are still very much divided when you examine west versus east. The benchmark for a detached home in East Vancouver now sits at $1,357,200—down 12.1% from 2018. Compare this to the $2,948,400 benchmark for a detached home in West Vancouver—down 13.4% from last year.
If you're keeping track, this means the price of a detached home is anywhere from $177,000 less, to just under $500,000 less than prices in 2018.
This should be great news for buyers (sorry, sellers). It also signals an even greater need for doing your due diligence as a buyer. You can start your research using this year's ranking.
Despite the big price drops, this year's two top-ranked neighbourhoods are exactly the same as last year's top two. Read on to learn why.
Vancouver's top 3 neighbourhoods to buy
1. Marpole
The big reason why this neighbourhood continues to hold the top spot is that it offers excellent value in a city where real estate prices were so grossly exaggerated by injections of foreign money and money laundering.
Marpole is still transitioning, and it may take another half-decade before the community really comes into its own, but for any buyer looking to buy into a neighbourhood with great value and higher potential for future appreciation, Marpole is the place.
Realtors don't give this area top marks. The area lacks the personality and character that can be found in surrounding Vancouver West neighbourhoods and, for that reason, it doesn't feel like a community and it lacks the draw of other areas.
But you'll pay 25% less for the average priced home in Marpole than a home in surrounding Vancouver West neighbourhoods. Some buyers have already realized that the area offers value; in the last five years, prices have appreciated by 116%.
But unless you really want to be in Vancouver West, the 74% premium to buy a house here, compared to the average price of a Metro Vancouver house, or the 53% premium when compared to the average price of a Greater Vancouver house, may be hard to swallow.
3. Kitsilano
If value is still your motivation and, as a buyer, you're stuck on the idea of living in Vancouver West, then the next best option is our No. 2 neighbourhood of Kitsilano.
But it's not cheap. In 2018, the average price for a house was $2,615,000—about half a million more than the average price of a house in Marpole.
Thing is, Kitsilano offers a real sense of community. The neighbourhood is diverse, well-situated for commuters (for public transit, as well as for walking and biking), offers unique stores, an assortment of popular restaurants, pubs and coffee or tea houses, and exceptional access to the beach.
Better still, homeowners are proud. The houses here have mature gardens, the streets have mature trees and any new build that is approved tends to follow that boutique-y feel that Kitsilano is known for throughout the Lower Mainland.
What hasn't changed is that the average house price Kitsilano is still 105% higher than the average in Metro Vancouver and almost 80% higher than in Greater Vancouver.
Still, Realtors who work this area believe the area still has room to grow, in terms of price appreciation, and that means it's still considered a strong buy both for its value and its possible future price momentum.
3. Knight
The No. 3 neighbourhood in this year's ranking is a South Vancouver 'hood that hugs the east and west streets flanking Knight Street from 16th Street in the north and either 49th or 54th Street in the south.
Like many South Vancouver neighbourhoods, Knight is considered a "blue-collar" enclave—despite the fact that now homes sell for just under $1.6 million, on average. Still, as a "better" priced neighbourhood in the City of Vancouver, Knight offers a real mix of cultures and an opportunity for buyers who are willing to watch a neighbourhood gentrify and grow.
For buyers who eschew the "Vancouver Special"—those box-like houses with second-floor balconies and a low-pitched roof built between 1965 and 1985—this may not be the neighbourhood for you. While you can find custom builds as well as newer townhouse complexes and mid-rise condo developments, this area is stocked with many iconic Vancouver Specials. These low-quality homes—originally built quickly to satisfy the demand for lower priced housing within easy commuting distance to downtown Vancouver— now require updates, but do offer a chance to buy in at a lower price point before adding a bit of sweat equity (or overseeing paid work done by professional renovators).
For families, the neighbourhood continues to offer an easy commute to downtown Vancouver and now includes local amenities that help support the family atmosphere, such as a skateboard park (built in 2010), sports fields and the Kensington Community Centre, which is rumoured to offer one of the best views of downtown Vancouver and the North Shore mountains.
MoneySense is fully owned by Ratehub Inc, but remains editorially independent.
Where to buy real estate in 2019: Richmond, Delta and Tsawwassen, B.C.
If you don't mind being close to the airport, our top regional pick boasts 140 hectares of protected ecological land with two beaches.
Top 3 neighbourhoods to buy
1. Sea Island, Richmond
This year, Sea Island in Richmond, B.C., ranked an impressive No. 3 across Greater Vancouver. For buyers familiar with Richmond, it may be hard to imagine living in this top-rated spot; Sea Island is best known as the location of Vancouver International Airport—a bustling hub for domestic and international passenger travel, as well as commercial global shipping.
Still, residents of Sea Island know the area offers more than the airport, parking lots and the McArthurGlen Designer Outlet mall (populated with luxury or higher-end stores to attract shoppers from the mainland as well as tourists with money). In fact, it's a strong-knit community that offers access to 140.1 hectares of protected ecological land, including two beaches.
Within Sea Island sits Burkeville, where you'll find just over 730 permanent residents. There's a small northern section of the island where the Musqueam Indian Band live.
While some newer homes in this area have been built where older, cottage-like homes once stood, very little else has changed in the community. This offers an old-world charm.
The homes sell for more than 30% less than the average-priced home in surrounding Richmond, B.C., communities. When compared to all of Richmond, homes on Sea Island are priced, on average, more than 26% less, and 45% less when compared with the average across Greater Vancouver.
The area doesn't get top marks from Realtors, however, because there isn't much room for change or advancement; the only real option is to purchase an older cottage-style home and then to modernize or teardown and rebuild. Still, for those who work in downtown Vancouver or want a short commute to surrounding areas, Sea Island offers exceptional car-commuter access to main thoroughfares, as well as excellent access to public transit options.
2. Bridgeport, Richmond
Just across from Sea Island on the other side of the Fraser River is our No. 2-ranked spot. Like others on our list, Bridgeport is dominated by a thriving commercial sector—it's where you'll find Costco as well as the popular, and now infamous, River Rock Casino.
Residents who live in Bridgeport must like the busy, urban life offered by Richmond. Not only are they surrounded by stores and other urban amenities, they have easy access to the popular weekly Richmond Night Market—it's the largest night market in North America and, since its inception in 2007, has become an international sensation, attracting more than 1 million visitors each year.
The move towards commercial development will be even greater in the future. The City of Richmond's master plan does not allow for any new residential builds in this community, but it is promoting the redevelopment of under-utilized land for commercial and business purposes. For instance, the City approved a plan by Chunghwa Investment that proposes a new commercial development on a large parcel of land just east of Costco and the Oak Street Bridge. This new business hub includes four mid-rise buildings, which will offer two office buildings as well as two hotels operated by Marriott International.
For current residents or those choosing to remain really, really close to the main urban centre for Richmond, this neighbourhood is a prime location. Better still, homes in this community sell for just under 25% less than surrounding neighbourhoods, 19% less than the average house price for Richmond, and 29% less than the average for Greater Vancouver.
3. Steveston South, Richmond
On the southwestern tip of the island is Steveston Village, which has a working harbour and could be considered the heart of Steveston South. As a well-established community, Steveston South offers that small-town feel inside a large urban centre. Its proximity to the City of Vancouver and Vancouver International Airport make this neighbourhood a popular choice for families and for businesspeople who must travel domestically and internationally.
The average price for a house here is 14.5% cheaper than in other nearby communities, and more than 8% cheaper than the average price of a house in Richmond as a whole. Better still, Steveston South is more than 20% cheaper than average-priced houses in Greater Vancouver.
MoneySense is fully owned by Ratehub Inc, but remains editorially independent.
Where to buy real estate in 2019: Coquitlam, Port Coquitlam and Port Moody, B.C.
Birchland Manor in Port Coquitlam ranks No. 1 in this year's regional Vancouver rankings.
Top 3 neighbourhoods to buy
1. Birchland Manor, Port Coquitlam
It comes as no surprise to us that Birchland Manor in Port Coquitlam ranks No. 1 this year on the regional list and No. 11 in the overall Greater Vancouver ranking. There is some serious momentum happening: In 2017, the neighbourhood ranked No. 89, then rocketed to the top 10 in 2018. What gives?
For more than five years, massive price growth in Metro Vancouver meant that potential commuter communities, like Port Moody, Coquitlam and Port Coquitlam also saw property prices rise dramatically. But it took a couple of years. In 2017, you could get into this neighbourhood for almost 50% less than any other Port Coquitlam enclave. The value was there, but no one saw it. Today, the data shows us that some Realtors and buyers are still figuring it out.
In the context of GVA housing prices, the average home here could be considered a bargain at just over $950,000—still 15% less than the surrounding area and more than 51% less than average home prices in Port Coquitlam (and 57% cheaper than the average house price for the GVA). Prices appreciated by more than 20% in 2018, and over the last five years property values increased by almost 85%.
What you'll find here are older family homes, many sitting on larger lots with basement entrances, where you come inside and shed your wet and muddy layers before moving upstairs to the main living space. While the majority of properties in this community are single-family homes, the area is rapidly developing, with more townhouse and condo complexes in the works.
2. Mary Hill, Port Coquitlam
Two years ago, Mary Hill was way down the list at No. 118, in part because it had not seen a lot of momentum in property prices. Part of the reason is that the neighbourhood is located on the far side of Port Coquitlam and south of the highway. But those who live here like it this way because the community is boxed in. On the west side there is the Colony Farm Regional Park and Gates Park, to the north is Lions Park and to the east is the Canadian Pacific Railyard, while the southern border of this community is defined by the Mary Hill Bypass (Highway 7B) and Pitt River. As such, the community can feel a bit secluded , while still being just minutes away from all big-city amenities.You'll find mostly detached home two-story homes on large, flat lots, although buyers can also find townhomes on the north side.
While property prices increased by only 1.74% in 2018, the five-year price growth for the neighbourhood is just over 75%. Buyers can still find a single-family home for less than $1 million here—no small feat in the super-expensive Lower Mainland real estate market.
Realtors who specialize in Port Coquitlam also think there's more room for growth as developers start to update homes and redevelop land, and more people look to find more affordable housing within the Lower Mainland.
3. Glenwood, Port Coquitlam
Glenwood is a neighbourhood of condos and detached homes on the north side of Port Coquitlam. Most of the houses are situated on flat lots, making it ideal for kids' backyard play areas.
For commuters, Glenwood offers very easy access to the highway and direct access to the Coast Meridian Road. Public transit users also get good access to the West Coast Express, making it extremely easy to visit nearby Vancouver, Port Moody and Pitt Meadows. Throughout the city are the TransLink buses, which have regular routes with pickups every 30 minutes or so.
Glenwood is actually one of the fastest growing neighbourhoods in Port Coquitlam, as it attracts families who want big homes in a setting with the smalltown feel.
Buyers can expect to pay, on average, just over $958,560 for a house, which is a smidge more than the average price of surrounding communities. Still, homes in this neighbourhood are a deal given that the average house price for Port Coquitlam is 44% higher, and GVA average prices more than 50% higher.
For buyers in 2019, this area might be ideal as it appears to have gone through a significant correction in 2018, with an average price drop of just under 30%. (Five-year price appreciation still sits at more than 85%.)
MoneySense is fully owned by Ratehub Inc, but remains editorially independent.
Where to buy real estate in 2019: Surrey, B.C.
Our No. 1 pick in this West Coast Canadian region offers large homes with two-car garages and big backyards.
Surrey continues to battle its negative image, with reports of daylight shootings and racial tensions. But the reputation may be undeserved.
South Surrey, commonly referred to as White Rock, is a well-known retirement hot-spot, while property just north of the King George highway retains its expansive nature and almost rural feel. For that reason, it's hard to ignore the relative value a house in Surrey can offer. It's just a matter of finding the right neighbourhood.
Top 3 neighbourhoods to buy
1. Guildford
Guildford is one of the better options for value-seekers investigating Surrey. This neighbourhood boasts iconic large, two-car-garage homes with a big backyard for the kids. In a part of the country where space is at a premium, this is a very, very nice feature.
The neighbourhood is located just south and east of Guildford Town Centre, which is advantageous—but can also pose problems. While residents benefit from easy, quick access to shopping, proximity to the SkyTrain has been known to attract criminal elements (mostly those looking for an opportunity to steal stuff).
But the benefits can easily outweigh the cautions. Average house prices in Guildford are about 13% cheaper than average house prices in surrounding communities, and more than 15% cheaper than the average across Surrey. Like many suburban communities, Guildford property prices are also significantly cheaper than average house prices for Greater Vancouver—in this case, 55% cheaper.
2. Fleetwood Tynehead
For the last five years, the top-searched neighbourhood in Surrey was this No. 2-ranked neighbourhood. Located in the northeastern part of Surrey, Fleetwood Tynehead attracts families—and, at present, almost a quarter (22%) of the neighbourhood's population is under the age of 19.
Part of its draw is that the neighbourhood is close to all that Guildford has to offer (our No. 1 ranked community) but further away from the negative elements brought about by the SkyTrain station. Plus, residents get access to Tynehead Regional Park, an ecological park that offers dog-friendly spaces as well as trails by the Serpentine River, a fish hatchery and a butterfly garden.
Since most homes are owner-occupied (more than 80%) the neighbourhood benefits from having an established community feel, and this lends history and depth to annual events such as the 10-day Greek Food Festival and the Fleetwood Festival.
Homes cost a bit more here, with average house prices about 4.5% higher than in surrounding neighbourhoods, but still 46% cheaper than the average house price for Greater Vancouver.
3. West Newton
Search "Newton, Surrey" and you're bound to find a variety of forums proclaiming how bad this neighborhood is for families (or just about anyone). There used to be truth to this. Gangland shootings and daylight drive-bys were common and, sadly, still sometimes happen. But the City of Surrey has done a lot to clean up this neighbourhood and its reputation.
For instance, there's a new community centre and the local Business Improvement Centre has invested in cleaning up the town hub. The new West Newton Community Centre offers a 9.4-acre park that includes a regulation size grass cricket pitch (with a spectator stand), a pavilion suitable for a variety of outdoor events, a community walking track and a large, super-kid-friendly playground.
For most, the "problem" spots are no longer all over Newton (and West Newton), but have moved to an isolated area around Scott Road. Still, the community still has a lot of work to do to shed its less-than-safe image.
One way this will change is when engaged homeowners begin to occupy and gentrify the neighbourhood and with homes selling, on average, for 9% less than surrounding communities, 11% less than the average Surrey house and 53% less than the average GVA house, it's only a matter of time before buyers and developers turn their attention to West Newton.
MoneySense is fully owned by Ratehub Inc, but remains editorially independent.
Where to buy real estate in 2019: Abbotsford, Mission and Pitt Meadows, B.C.
Abbotsford's revitalization is being driven by an influx of homebuyers looking to escape high prices closer to City of Vancouver, along with new businesses and government investment.
Abbotsford is undergoing a huge change. In the last half-decade, there's been an influx of new people (many escaping high property prices closer to the City of Vancouver), new businesses, and new municipal and provincial infrastructure money. All this has helped to soften out the crusty-crime image that plagued some areas of Abbotsford.
As one resident explains, "the old, shifty neighbourhoods are getting bought up by new young families full of hopes and dreams." Another notes: "Now, almost all neighbourhoods west of Highway 11 fall into the category of good, family-oriented neighbourhoods."
Top 3 neighbourhoods to buy
1. Central Abbotsford
Central Abbotsford tops the area that includes Abbotsford, Mission and Pitt Meadows. While some still feel that the centre of Abbotsford is still "too commercial" and has too many high-rise apartment complexes, others are attracted to the urban feel and the chance to build a more family-friendly community. The area is eclectic and broadly diverse, with pockets of South Asian influence (mostly the west side).
Average houses in Central Abbotsford sell for 20% cheaper than surrounding neighbourhoods, and 46% cheaper than the average Abbotsford home.
2. Mission (Central)
Located in the Fraser Valley, Mission is just 15 minutes from the U.S. border, but a 60-minute drive to downtown Vancouver. If you don't mind this drive (or don't need to commute), central Mission is a great neighbourhood to buy a house. Average prices are 20% cheaper than in Mission; and 36% cheaper than the average across Mission, Abbotsford, and Pitt Meadows
Mission appeals to those who like access to all that interior B.C. has to offer—snow sports, hunting, fishing, ATV sports, and many other outdoor activities—but want the amenities of city living.
3. Mission West
The Mission West area is not as developed as other areas in the city, but it's also a current growth area due to high housing demands in the Fraser Valley. The recent upgrades to Highway 7 and the Lougheed Highway have made travel to and from Mission West so much easier, and this means more buyers will be able to access the affordable housing in this area.
Keep in mind, Mission West offers not only urban development but also rural and acreage properties as well. This tends to skew the pricing of the neighbourhood: the average housing price is just over $1.257 million. Still, for those who have the money, buying property with land in this part of B.C. could pay off, as prices have grown by 143.8% in the last five years.
MoneySense is fully owned by Ratehub Inc, but remains editorially independent.
Where to buy real estate now: How we found the best deals in Canada
We ranked 35 cities and 1,726 neighbourhoods across Canada to help you decide where to buy your next home
Choosing where to buy a home is a very personal decision, but gut feeling alone shouldn't guide the biggest financial decision of your life. Whether you're moving to be closer to closer to your job, have access to better schools for your kids, or you're an income property investor looking to purchase where there's maximum upside potential, it's important to have some knowledge of how the homes in the neighbourhood you pick are likely to appreciate over time.
Affordability is important, but over the past few years most real estate markets in Canada have been a nail-biting, chart-defying nightmare for many buyers. Prices kept climbing, with home sales reaching their peak in December 2017; that was followed by rapidly decreasing sales activity and falling home prices—yet getting into the market still feels out of reach for many buyers.
Our annual report on real estate gives you the hard numbers to help guide your decision. We used data from Statistics Canada and the Canada Mortgage and Housing Corporation (CMHC) to analyze the real estate markets in Canada's largest 35 municipal areas. In addition, we examined 1,726 neighbourhoods in 54 of Canada's larger cities, based on three criteria:
Value.

Affordability is a tremendously important consideration—and increasingly hard to find, particularly in more volatile markets like Toronto and Vancouver. That's why we also take into consideration the relative value of each neighbourhood and how pricing compares with surrounding neighbourhoods and the overall region.

Momentum.

Whether you're looking for your first home, your next family home or for an income property, it's important to think about how homes in the neighbourhood you pick are likely to appreciate over time compared to competing communities. This momentum helps us identify neighbourhoods that have the likelihood of strong future appreciation, particularly given that houses in neighbourhoods with consistent, strong, upward appreciation tend to hold their value even during the downturns.

Expert insight.

To ensure we're identifying desirable neighbourhoods, we consulted an extensive panel of real estate agents. In our survey, we asked them to assign a grade to each neighbourhood.
The result is a ranking of the best Canadian neighbourhoods in which to buy a single-family home right now. Whether you want the convenience of downtown living, the larger footprint of the suburbs or the peace and quiet of the countryside, our rankings will help get you the best bang for your buck.
How we did it
To identify the top neighbourhoods, we start by looking at value, using average housing prices provided by local real estate boards. To be clear, when we say value we aren't simply looking for the cheapest areas, as low prices alone could be indicative of neighbourhoods mired in social problems, or communities that lack amenities and offer little in the way of a return on your investment.
Instead, we're looking for relative value—when a neighbourhood is more affordable than other areas nearby. We measure this by comparing the average home prices in each neighbourhood to prices in the surrounding area, the metro district (where applicable) and the greater municipality.
Next, we scour each market looking for areas where homes are appreciating faster than in other parts of the city. We examine this data based on one-, three- and five-year trends; the aim is to find signs of sustained price gains, which can indicate an area with greater demand. The stronger the overall appreciation, the higher these neighbourhoods ranked in our list.
Finally, to ensure we're identifying desirable neighbourhoods, we consulted an extensive panel of real estate agents and other experts. They were required to complete an extensive survey, where they were asked to grade and, at times, assess each neighbourhood.
Our ranking of the top 35 cities takes a broader view of the economy and rental market, in addition to value and momentum. We incorporate data from a variety of sources, including the Canadian Real Estate Association, the Canada Mortgage and Housing Corporation, the Québec Federation of Real Estate Boards, and various other real estate boards and associations.
We consider factors such as the ratio of average income to average housing prices and the local unemployment rate. The top-ranked cities have strong economies, solid rental markets, good value for your dollar and robust price appreciation.
While you'll still have to do some of your own research to find neighbourhoods that meet your needs, we hope this report will narrow your search area and, ultimately, help you find and buy your dream home.
MoneySense is fully owned by Ratehub Inc, but remains editorially independent.
Where to buy real estate in 2019: Langley, B.C.
No. 1 Aldergrove boasts a waterpark-like community play space—plus, homes are more than 60% cheaper than the Greater Vancouver Area average.
The city of Langley offers families and first-time buyers a chance to buy into a community with a manageable commute to the Lower Mainland.
Top 3 neighbourhoods to buy
1. Aldergrove
In the past, Aldergrove was a bedroom community—a neighbourhood where families made a home, but commuted by car in and out for their daily work and play lives.
But that's changed over the last five years or so. In an effort to shed its former industrial image, Aldergrove built a new civic centre complete with an ice rink, community centre and pool—but not just any pool; it's more like a waterpark-like play space. With an awesome castle-like structure surrounded by water cannons, a splash pad and three pools, it's become a go-to destination not just for Aldergrove residents but for families as far away as Abbotsford and North Vancouver.
When you add this to the investment made to update Aldergrove's commercial sector and the addition of one of the Lower Mainland's largest car shows, suddenly Aldergrove is taking up space as one of the must-see tourist spots.
For residents, this translates into new money coming into the area, and new interest from home buyers and developers. It also means that the average home price, sitting just above $758,000, is almost a steal. When compared to Langley house price, Aldergrove is almost 35% cheaper; when compared to Fraser Valley, it's more than 27% cheaper; and when compared to the Greater Vancouver average, Aldergrove's average house prices are more than 60% cheaper.
2. Brookswood
Ranked No. 1 in our 2017 Where to Buy Real Estate Now report, Brookswood has been nudged down a spot: Aldergrove's value just can't be beat!
Still, the neighbourhood is a well sought-after community, particularly for families. Homes sit on large lots, and the area boasts loads of mature trees and well-tended gardens. Plus, there are some major developments in the works—and despite the backlash on developing land, that typically means an increase in property values. Right now, there is a multi-family housing complex planned for the community and investments earmarked to help re-develop the area's commercial space along 200 Street.
The average price for houses in Brookswood in 2018, was just over $981,600; that's almost 40% less than the average Greater Vancouver house price, although 5% more than the average housing price of homes in surrounding communities and 16% higher than the average house price in Langley.
3. Langley City
Two years ago, Langley City ranked No. 6 in our Where to Buy Real Estate report. A few years later, it's moved up the list primarily because of what it offers to home buyers.
While the average house price in Langley City is 4.5% higher than the average in surrounding communities, this neighbourhood has exceptional access to public transit, biking, hiking and walking trails, as well as urban amenities.
The real draw, however, is that potential future appreciation is considered to be quite strong, given the major infrastructure plans for this area. In April 2019, Translink, the public transit service that connects Greater Vancouver and the Fraser Valley, released its forthcoming plans to expand the SkyTrain service. The proposed 16-kilometre expansion would see the addition of SkyTrain stops between Surrey and Langley City. This will be huge for the neighbourhood. Being connected through public transit, the community will become a sought-after spot for commuters to downtown Vancouver and not just families who work in close proximity.
Another development that will positively impact Langley City is the expansion of Highway 1. The B.C. provincial government recently announced that infrastructure dollars from the city, province and from the federal government will pay for a widening project along 10 kilometres of the Trans-Canada Highway. The update will add a new high-occupancy vehicle (HOV) lane in each direction. This will further help make this neighbourhood a go-to for commuters to downtown Vancouver.
MoneySense is fully owned by Ratehub Inc, but remains editorially independent.
Where to buy real estate in 2019: Halton Region, Ont.
Our No. 1 pick—Uptown Core in Central Oakville—is a first-time buyer's paradise, with homes selling for 25% less than surrounding areas.
Halton Region's top 3 neighborhoods to buy
1. Uptown Core, Oakville
Uptown Core is located in Central Oakville at the major intersection of Trafalgar and Dundas. The area is unique in that is offers single-family homes, as well as a wide variety of high-rise condos and stacked townhouses. According to Visualizing Density, a pilot project created by the Canadian Urban Institute to help planners, designers, politicians, residents and builders create communities that are self-sustaining, the multi-family complexes in this neighbourhood create a much higher density in than is typical of other suburban neighbourhoods within the Greater Toronto Area. And, as a result, the community offers exceptional access to a variety of amenities, including community centres, schools, shops and restaurants.
There's a reason for this strong mix of commercial and residential uses. The City of Oakville has a multi-plan to turn the area into a government, institutional, cultural, recreational and public open space community that is available to all residents. This means Uptown Oakville (like Midtown Oakville) is going to be pedestrian-oriented, walkable and transit supportive, making it a commuter's dream and a go-to place in the city.
The great news, particularly for first-time buyers, is that homes in this area sell, on average, for 25% less than surrounding areas (and almost 10% less than the City of Oakville). While price appreciation has been moderate in the last year (about 5%), the five-year appreciation for this community is a whopping 270%—price growth that reflects the money invested in creating an exceptionally livable neighbourhood.
2. Acton, Halton Hills
Those old enough to remember commercials for The Olde Hide House, a store that specialized in leather goods, may recall the tag line: "It's worth the drive to Acton." It seems the sentiment has prevailed, as our No. 2 neighbourhood in this year's Halton Region ranking is Acton.