Best Day Of The Year To Sell Your House
If you plan to sell your house this year, you may want to list it right away, because the best day to sell your house is May 1, according to real estate brokerageTheRedPin.com.
Looking at five years of data from the Toronto housing market, TheRedPin concluded that May is the best month in which to sell your house, and January is the worst.
But that also makes May the worst month to buy a house. If you're in the market for a house, your best bet is to brave the winter and buy a house on January 20.
In Toronto, selling your house in May means an extra $18,500 compared to what you would make on it, on average, during the rest of the year, TheRedPin calculates. And an average house is likely to sell for an additional $60,000 in May when compared to January, the survey found.
Though the numbers are specifically about Toronto, the brokerage believes the principle is the same for any housing market.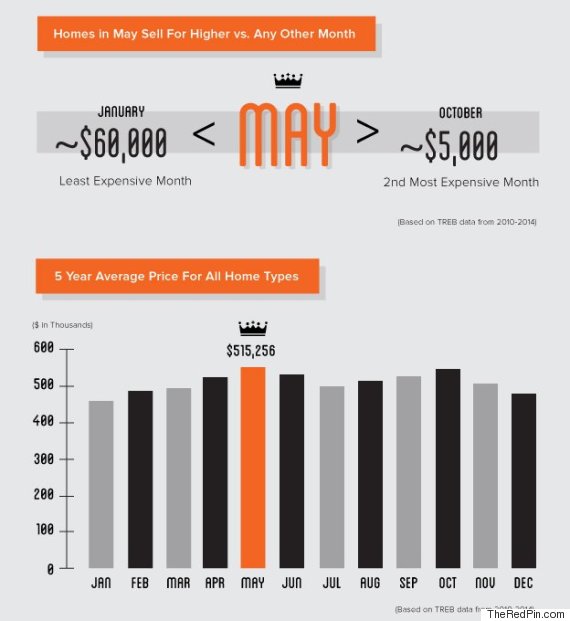 "Spring is the most active season for a number of reasons, including the fact that families can move without interrupting their kids' school year, pleasant weather makes house hunting more enjoyable and buyers are equipped with their tax return cheques, which all translates to more homes sold for higher prices," TheRedPin says on its blog.
"Strategically timing your home sale can make [a] real difference worth thousands of dollars to your bottom line."
Much to the surprise of many market observers, Canada's housing markets have held up relatively well in the early months of 2015, despite prognostications that the oil price collapse would take a bite out of home sales.
The average house price in Canada was just short of $440,000 in March, up 9 per cent from a year earlier.
But these days house price growth is largely a Toronto-area and Vancouver phenomenon, with prices flatlining in most other major markets.
The Bank of Montreal's latest housing market scorecard lists 12 of 22 regional housing markets as "weak" or "very weak." That includes all the largest prairie cities (Calgary, Edmonton, Regina, Saskatoon, Winnipeg) as well as Ottawa, Kingston and Halifax.
Toronto is listed as "balanced" and Vancouver is listed as "strong."